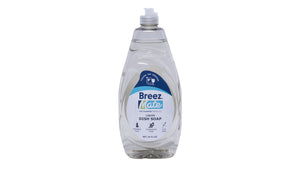 Dish Washing Soap 24-oz | BreezMate
Regular price
$9.99
Sale price
$11.75
Wash your dishes with the pure cleaning power of BreezMate! 
24-oz Squeeze Bottle of Liquid Dishwashing Soap quickly cuts through dried-on foods and greasy pans and leaves them squeaky clean. 
Fragrance Free

Dye Free

Paraban Free

Biodegradable
Use on porcelain, stoneware, stainless steel and non-stick cookware, metal bakeware, crystal and ceramic.

Dish Liquid Ingredients are sourced and manufactured in the USA,