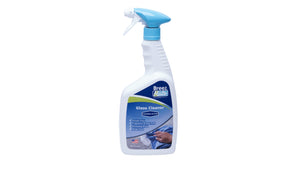 Foaming Glass Cleaner and Accessory Kit | BreezMate
Regular price
$24.99
Sale price
$29.99
Foaming 32-oz Bottle Glass Cleaner, Professional Squeegee and Microfiber Cloths are included in BreezMate's Foaming Glass Cleaner and Accessory Kit! 
Use on glass, chrome, plastic and stainless steel to remove fingerprints, smudges and more.  2-Sided Squeegee makes it easy to make windows, glass and mirrors sparkle.  Microfiber cloths finish the job for perfect results every time.
Biodegradable, no-fragrance, dye-free formula is effective and Earth Friendly!
In The Box:
Assembled squeegee kit
32 oz. bottle of glass cleaner
2 Microfiber cloths
Glass Cleaner Ingredients sourced and manufactured in the USA.
Good to Know:
Measurements:   

Squeegee kit approx. 15"L x 10"W,

Cloths approx. 15.75"L x 15.75"W.

Material:  

Squeegee: Aluminum, plastic; Cloths: 80% polyester and 20% polyamide

Care:   Cleaning

Cloths and Squeegee Pad are machine washable